江戸城の御臺所町御賄方の武家屋敷が集う町として、
ここ外神田二丁目界隈は「神田明神下御臺所町」と呼ばれていたそうな。
銭形平次が居を構えた場所として時代劇の舞台にもなり、江戸の粋な風情が残る街。
神田明神男坂下の路地にたたずむ黒塗りの隠れ家こそ、神田明神下みやび本店…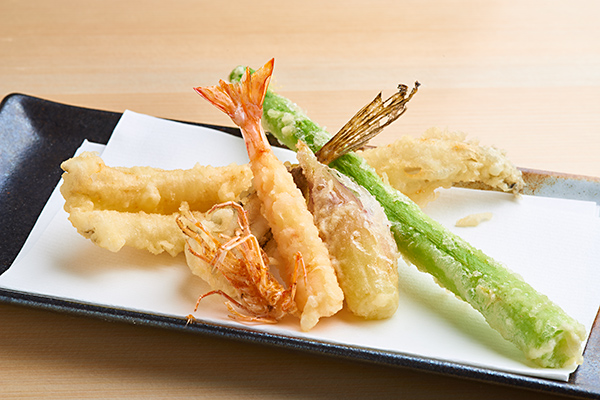 Edo (Tokyo) style tempura cooked in front of you.
It starts from Saimaki shrimp (small size shrimp) tempura. There are alive Saimaki shrimp. Eel and other fresh fish and seafood.
We take sea water from off the coast of Haneda and change sea water of fish tank for shrimp ever few days. And with in-season colorful vegetables, you can enjoy Tempura show. You can eat just fried Tempura with sake of special brand.
It is the very best luxury.
We also have precious sake called premium.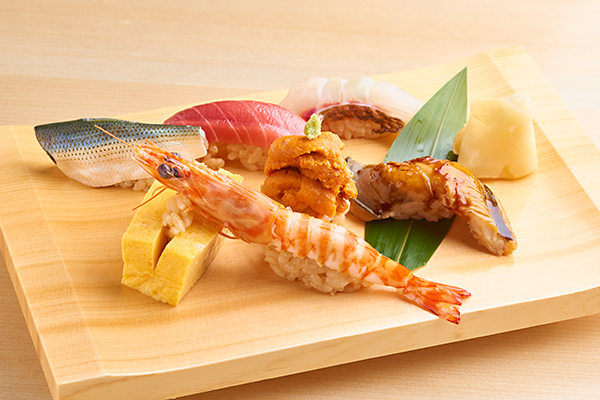 Sushi cooked in front of you
There is Sushi counter on the right of long counter.
To enjoy the performance of Edo style sushi, Sushi counter was furnished and you can try sushi and tempura at the same time.
You can take tempura first and then finish with sushi.
Red vinegar is used for rice for Edo style sushi like Edo era and red vinegar is make in Tokyo. We hope you enjoy its taste that is mild but sharp.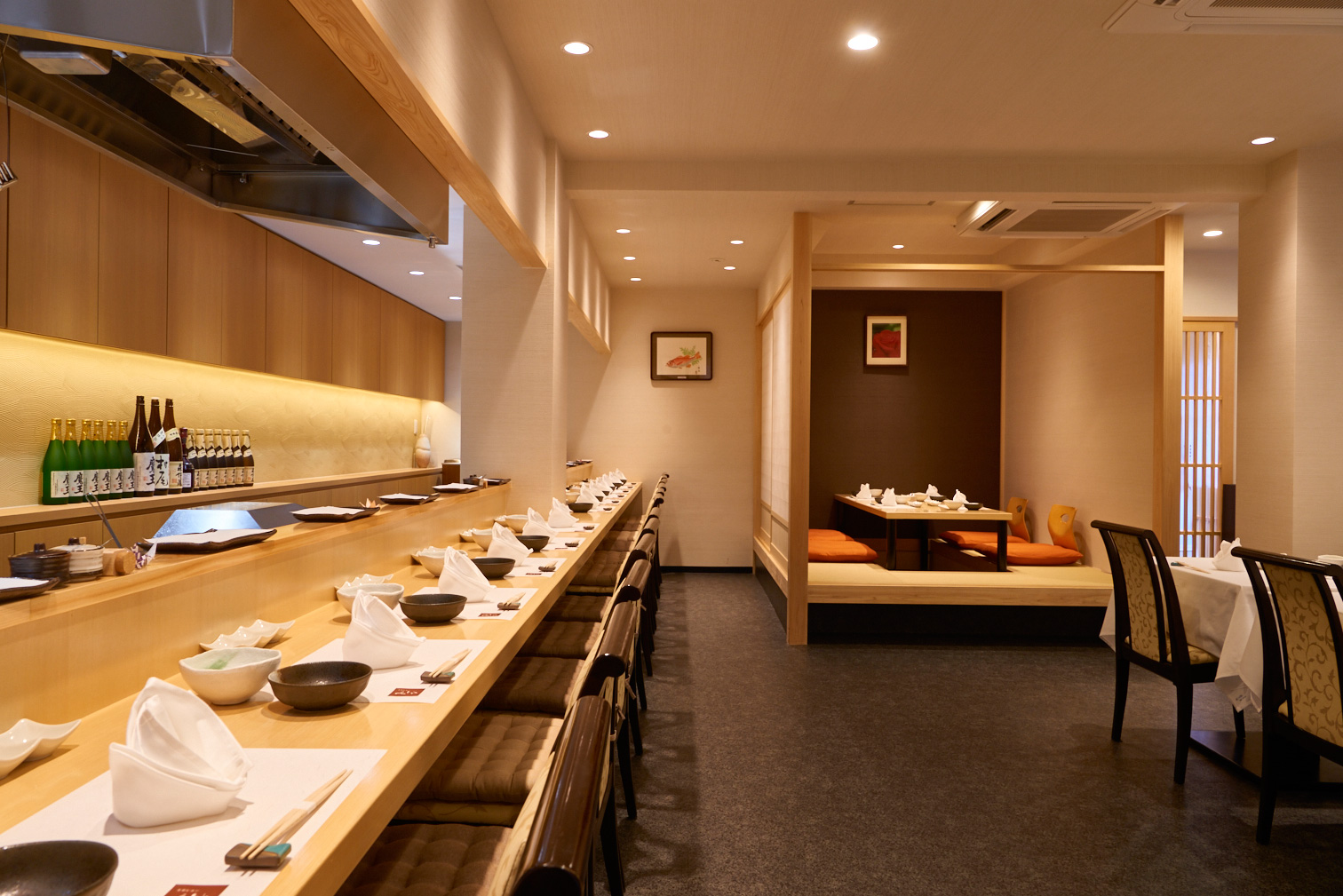 A relaxed atmosphere
Relaxed atmosphere of inside restaurant.
Kanda Myoujin Sakashita where is full of atmosphere of old times.
When you entered renewed Miyabi, there are counters, tatami-floored seating area and table seats. It is good that you have just fried tempura sitting in the counter or enjoy talking while eating sushi in tatami-floored seating area or table seats.
3 to 6 guests are available in tatami-floored seating area.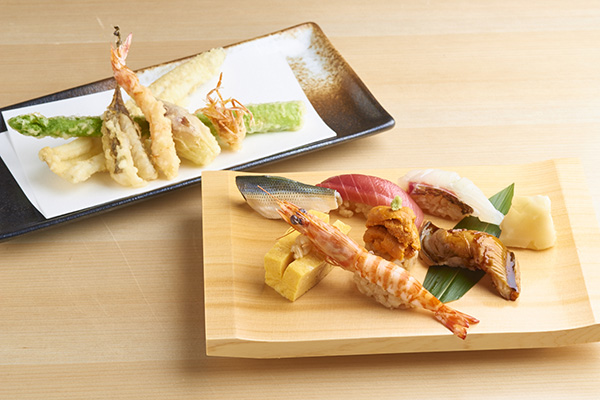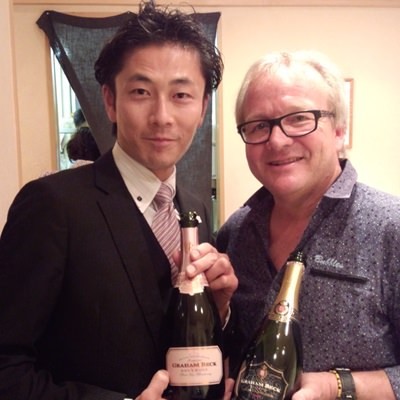 南アフリカ・グラハムベック社のピーターフェレイラ氏と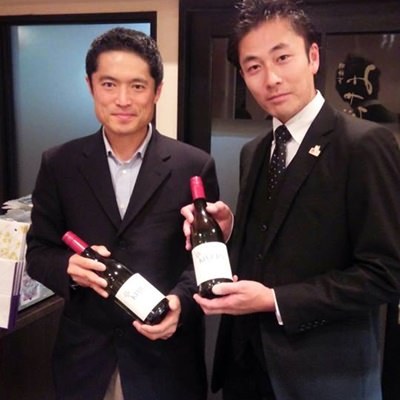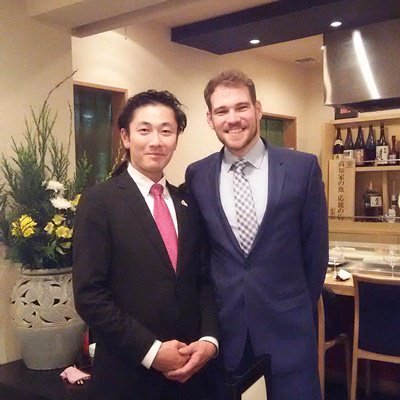 ドイツ・フォンウィニング社のアンドレアスヒュッツヴォール氏と
We are particular about WINE
We call our restaurant Edo style, however we are putting strength in wine party. We invite wine growers from abroad and have Wine Maker's dinner party
You might think tempura and wine? However marriage between tempura and wine is popular among our customers.
It is held several times a year though it is irregular.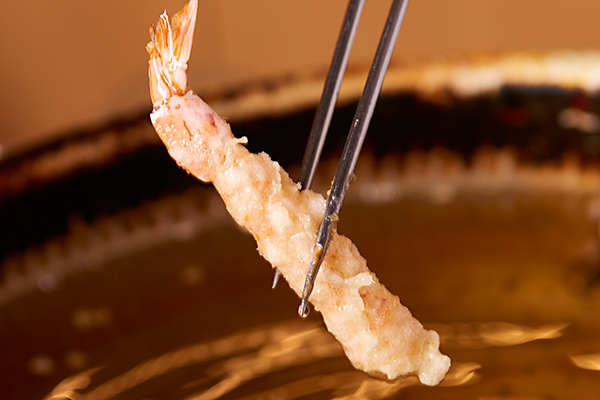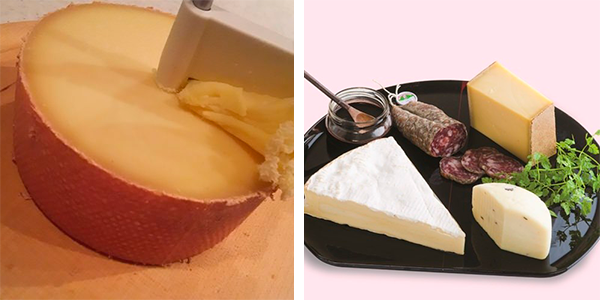 Marriage both tempura and cheese.
Combination of tempura cooked with selected materials and cheese is fabulous. It is said that seeing is believing, therefore we assure you that you will understand once you tried.
There are many customers who love our cheese so much and repeat to order.
Marriage tempura, wine and cheese. You can enjoy the taste of that you can't experience in other places. We can provide various kinds of cheese that matches not only wine but also sake or shochu.